Cup Sealing Machnie (UL) / PP – 98mm – MC0014
ITEM# MC0007
| | |
| --- | --- |
| MODEL | PH-999SN |
| Machine Size | 340 x 360 x 610 mm |
| Power | 110V / 220V, 400W |
| Production Capacity | 450 cups/hr |
| Max. Cup Size | Diameter 98 mm |
| Weight | 24kg |
| Case | Stainless steel |
| Date/Code Printer | Applicable |
Cup sealing machine (UL) – PP 98mm
Easy-to-use digital panel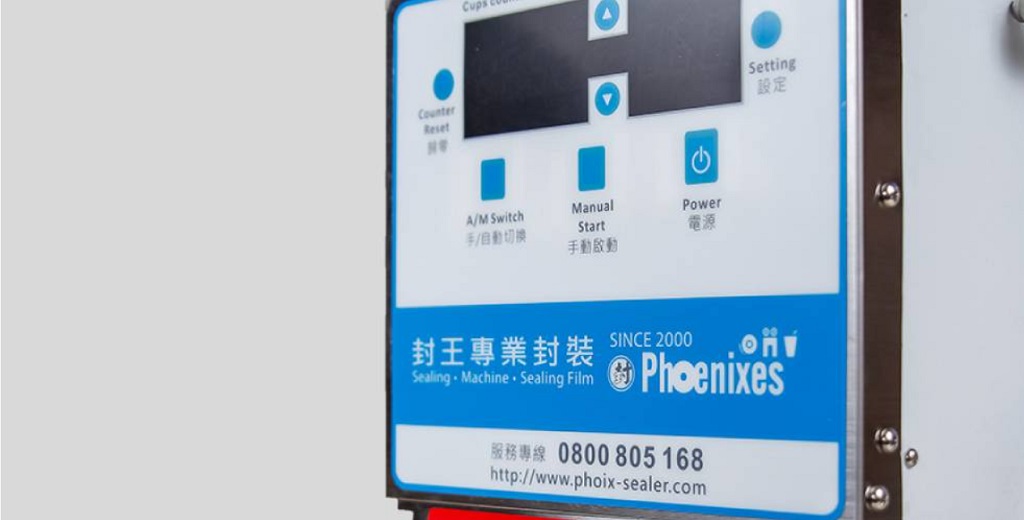 Customer Design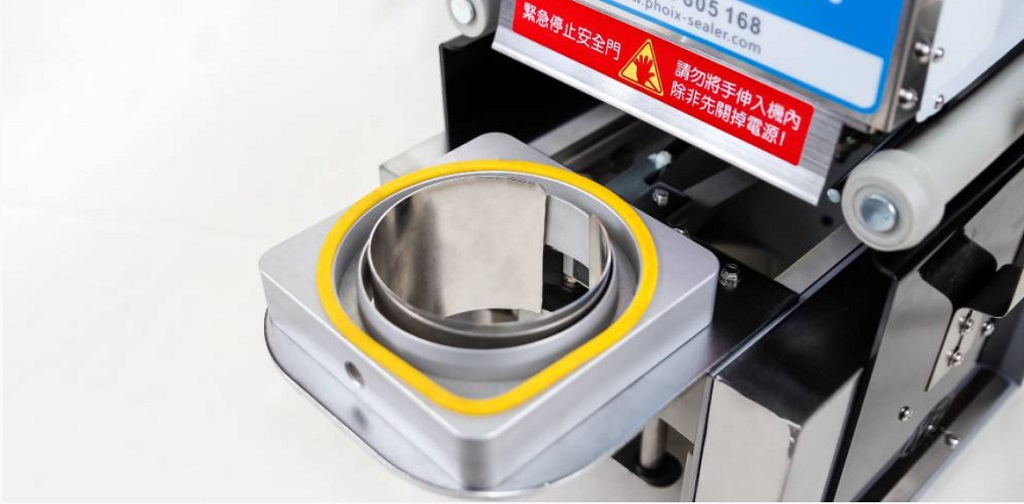 ITEM# MC0014
Due to its great quality, affordable price, user-friendly interface, stainless steel exterior, this model is our best-selling cup sealing machine. It can seal cups and small containers for a different range of products such as bubble tea, juice, coffee to yogurt, pudding, and many others. The machine can be fully customized according to your cups or containers sizes, offering CE and UL certification if requested.
Feature
Certified by UL and CE regulations
#430 Stainless steel case.
Sensor for cup detection.
Manual and Automatic operation mode are both available.
Easy-to-use digital panel.
The machine comes with our recently upgraded advanced switches.
Easy to operate and maintain.
Reinforced cutting blades for long-lasting use.
Specification
| | |
| --- | --- |
| MODEL | PH-999SN |
| Machine Size | 340 x 360 x 610 mm |
| Power | 110V / 220V, 400W |
| Production Capacity | 450 cups/hr |
| Max. Cup Size | Diameter 98 mm |
| Weight | 24kg |
| Case | Stainless steel |
| Date/Code Printer | Applicable |
User-friendly digital panel
The panel shows everything about the machine that you need to know, such as sealing temperature, sealed cup counter, automatic or manual mode, and error codes. These values can be adjusted according to your sealing needs. The panel can be customized with your shop logo.
Food grade stainless steel exterior and high-quality spare parts
In the past 20 years in the packaging industry, we have been dedicated to producing high-quality sealer machines by using the most sustainable materials such as stainless steel, Omron spare parts, and titanium sealing cutter. We understand how important that a good machine you need for your business, and all our machines include satisfying aftersales services that will definitely meet your high expectations.
Customizable mold
The machine comes with a standard 95mm or 90mm diameter mold. We'll help you to customize the mold if the diameter of your cups is not the standard ones. The mold can also be customized to have a peel-tab for your products to be peeled off easily.
| | |
| --- | --- |
| Weight | N/A |
| Dimensions | N/A |
| SAP Item Code | MC0014 |
| Item Group | Machinery |
| Sales UoM Barcode | 722537654715 |
| Sales UoM Name | Each |
| Package Size | Each |